THE VEGAS GAMBLE
Coming Soon to An Arena Near...Someone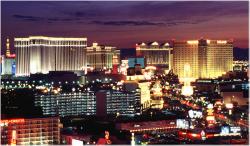 Las Vegas will be home to a new team that will replace the Chicago Skyliners.
Updated Wednesday, February 13, 9:42pm ET
The Las Vegas Slam have a place in the ABA, but no place to play---at least not yet.
The Slam, the remnants of the Chicago Skyliners, are up against the clock as they try to find a a home court for Monday's game against the Phoenix Eclipse.
A UNLV spokesman has confirmed that the school has had discussions with the Slam about using the Thomas & Mack Center, home to the UNLV Runnin' Rebels basketball team, but that no decision has been made and no contract has been agreed to.
The Las Vegas Sun reports in Wednesday's editions that the Slam's ownership group includes former Los Angeles Laker forward (and current Southern California Surf executive) A.C.Green, as well as California businessmen Dave Moore and Mike Carroll.
The ABA has not addressed how an executive of one team owning part of another team would not be a conflict of interest, but that isn't the biggest question surrounding the team or the league at this point; Las Vegas is just one of three ABA teams with unsettled arena situations.
The Las Vegas Bandits (nee Silver Bandits) of the International Basketball League folded less than a year ago after drawing sparse crowds to Thomas & Mack. The arena has no conflicts with UNLV men's or women's basketball games that would preclude Slam games from being played as currently scheduled.
LAS VEGAS TEAMS
The following professional basketball teams have called Las Vegas home:
Las Vegas Dealers (WBA) 1978-79
Las Vegas Silvers (CBA) 1981-82
Las Vegas Silver Streaks (WBL) 1988-90
Las Vegas Silver Bandits (IBL) 1999-2001
Las Vegas Slam (ABA) 2002-
Meanwhile, the Indiana Legends, who postponed back-to-back home games Sunday and Monday, have left the Indiana State Fairgrounds in the dark about their future plans.

A Fairgrounds spokesman told almostbasketball Monday evening that they were still "awaiting word from the team", which told them it wouldn't play Sunday or Monday "to attend a league meeting on the west coast."

The ABA, which lost teams in Memphis, Tampa Bay, Los Angeles and San Diego after its first season, saw prospective teams in Long Island and Tijuana drop out prior to this season, and opened with seven clubs that were to play a 42-game schedule between December 26 and April 15.

Detroit, Chicago, and Indiana didn't have arena leases when the season tipped off. Chicago played two home games at a small church gymnasium, while Indiana played four home games at the Pepsi Coliseum before mysteriously switching its January 26 home game against the Dogs to Detroit at the last minute without explanation. The Legends played one more home game after that (on January 31), and are not scheduled to play again at home until March 7 against Phoenix.

That January 26 game at Cobo Arena against Indiana marks the only home game the Dogs have played in Detroit this season. The Dogs are scheduled to host the Legends tomorrow night, presumably at Cobo Arena. League sources indicate the Legends' players have not been told that the game is off, and are preparing to play.

The Chicago franchise began this season under the stewardship of businessmen Calvin Jarrett and David A. "Tony" Kittrell. However, the Skyliners were a disaster from the start: a thrown-together lineup lost its first two games by 57 and 58 points, and players were apparently never paid or signed to contracts. After failing to reach arena leases with several local colleges, the Skyliners played two games at the small local church gym, attracting fewer than 100 fans to each.