ABA BLEW OFF UIC
Skyliners' Home Opener Rescheduled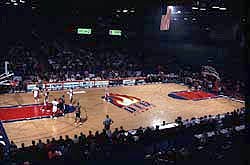 The University of Illinois-Chicago Pavillion
photo courtesy UIC
Tuesday, December 8, 2002 9:50am ET
Representatives of the Chicago Skyliners had a verbal agreement to play their second season at the newly-renovated Pavillion at the University of Illinois at Chicago two weeks ago, but postponed a meeting to finalize the deal and left the University wondering.
Despite league CEO Joe Newman's assertion Tuesday morning that, "If the preliminary discussions prior to meeting indicated that there was room for negotiations, I think that something could have worked out," a UIC official says there was negotiation, and that the terms of a lease had been agreed to.
Eric Hart, Associate Director for the UIC Pavillion, told almostbasketball that the University met with the Skyliners in July and quoted them a per-game amount to use the facility. After not contacting the school for four more months, the team then asked to renegotiate the terms.
"We reevaluated the pricing," said Hart. "At this point the figure was agreed upon by the team and a contract was provided for their review."
The contract was to be signed and "deposits made" on Friday, December 28th, but, according to Hart, the club contacted UIC on December 26th and requested a postponement until January 3rd or 4th. As of January 7th, Hart says his office had not heard back from the Skyliners.
Newman told almostbasketball Tuesday morning that playing at the Pavillion would have been too expensive for the Skyliners, even moreso than last year's venue, Allstate Arena in Rosemont.
"(The Skyliners) did not feel the cost was justified," said Newman via email. "Though the UIC facility is a quality, first-class facility and certainly would have been a great place to play.
Newman said the Skyliners have worked out a deal "with another quality Chicago venue", and that an announcement would be made next week. Contrary to a report published here on Monday evening, the front-runner now is Chicago State University's Dickens Athletic Center, which seats 2,500.
BIGGEST BLOWOUTS
In League History


58
Ky 153, CHI 95
1/5/02
57
KC 132, CHI 75
12/29/01
39
CHI 129, Tam 85
3/29/01
33
SC 126, Phx 93
12/30/01
28
KC 134, Mem 106
2/22/01
Newman said the Skyliners' first three scheduled home games, including the home opener Thursday night against Detroit, and games January 13th against Indiana and January 15th against Southern California, have been postponed and will be made up at a later date.
Chicago opened its second season in Kansas City on December 29, tying a league record by scoring just 75 points and set a new league mark by losing by 57 points (132-75). For an encore, they then broke the latter mark six days later by absorbing a 153-95 clawing at the hands of the Kentucky Pro Cats.
With former coach Joey Meyer gone to the National Basketball Development League, and last season's leading scorer, David Booth, gone to Japan, the Skyliners have cobbled together a makeshift lineup led by journeyman Dennis Edwards. Edwards, who last played in the States for the United States Basketball League's Maryland Mustangs, scored 39 points in the first two games.